One total solution. One easy installation.
Across the laundry industry, from self-service locations to on-premise sites, there are three ongoing issues that establishments most commonly face:
Rising energy costs
Minimizing environmental impact
Providing the cleanest washing environment for customers
Designed by Hamilton Engineering, San-O3-Tyzer ™ and San-O3-Tyzer Lite™ systems provide a single solution to these problems, and a completely sanitized washing machine after every cycle and load.
SUPERIOR SANITIZATION

San-O3-Tyzer's calculated blend of ozonated cold water destroys bacteria, mold, fungi, and other microorganisms more effectively than any other biocide available—sanitizing the washer and its contents with every single use.

LESS HOT WATER AND DETERGENTS

By reducing the use of hot water and detergents, San-O3-Tyzer systems can substantially lower your site's utility bills and carbon footprint. Ozone is especially effective on organic and hydrocarbon stains (i.e., grease, fats, oil, etc.), rendering the soil more soluble in water.

NOTICEABLY BETTER RESULTS

San-O3-Tyzer provides a better wash than one with non-ozonated water. Fabrics experience less wear and come out brighter, whiter, and cleaner – all without the need to pretreat. Ozone also deodorizes laundry by eliminating the core source of odors.

CLEANER SUMPS AND DRAINS

Improve the overall cleanliness of your laundromat as San-O3-Tyzer's ozonated water blend effectively destroys mold and mildew in sumps and drains.

LAUNDRY SERVICE DIFFERENTIATOR

By equipping your laundry service with cleaner, superior washing systems and technology, San-O3-Tyzer justifies a potential increase in vending prices and differentiates you from your competitors.

FLEXIBLE OFFERINGS

San-O3-Tyzer systems are available in ozone-only and ozone with integrated hot water, meaning you can equip its technology for individual bulkheads or your entire operation.

BUILT-IN OZONE ELIMINATION

San-O3-Tyzer's built-in excess ozone elimination technology removes all ozone not entrained in the wash water. It then returns it back to outdoor atmospheres, from which it originated. Without it, undissolved ozone can deteriorate entire metallic plumbing systems.

INDUSTRY TESTED AND PROVEN

All components of San-O3-Tyzer systems have been industry-tested and proven, ensuring reliability and lasting service. It's not new technology, just a new application.
What's ozone? How does San-O3-Tyzer work?
Ozone is "active oxygen,"  a natural disinfectant, and a greener, more effective alternative to traditional water purification chemicals like chlorine and bromine. By destroying bacteria, mold, and mildew, and eliminating spores, fungus, oil, and other contaminants, ozone leaves your washer and their contents clean and odor free.
San-O3-Tyzer systems utilizes ozone's natural cleaning properties to leave washers cleaner and odor-free.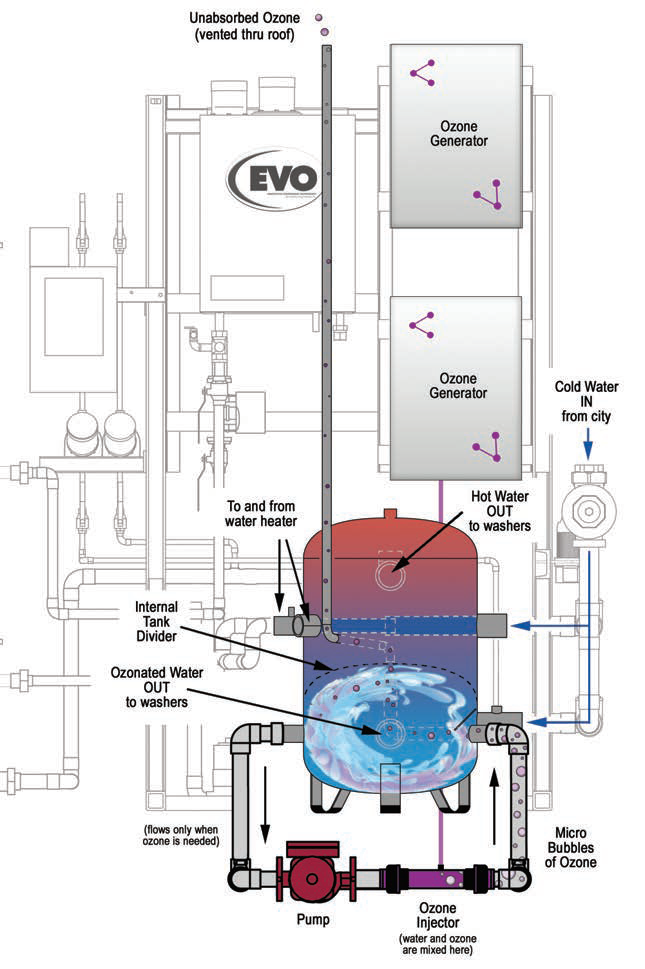 Adding ozone and charging a higher vend price.
Adding a third line for ozone allows the store to leave some washers fitted with just hot and cold water, while choosing which washers will receive ozonated water.
By adding an ozone line and shut off valves, washers can be added to the ozone line as needed, allowing the store to charge a higher vend price.
Adding a San-O3-Tyzer and an ozone line is an easy way to retrofit an existing laundry with ozone power, resulting in lower costs with the purchase of new washers.
Check with your manufacturer; some manufacturers have newer third valve capability already installed.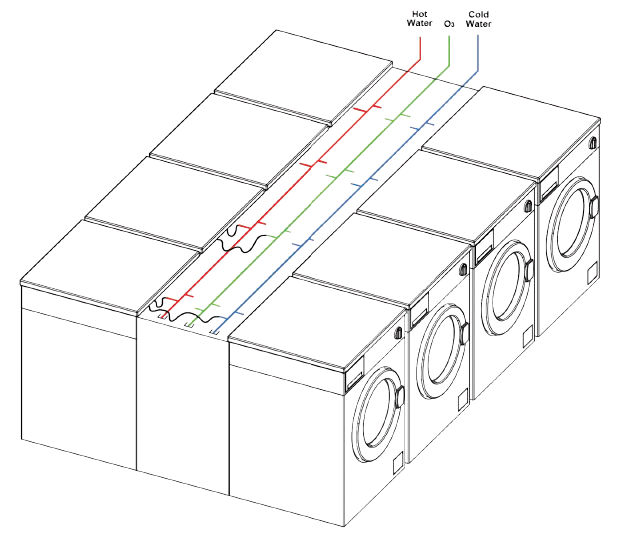 Downsize without compromise. San-O3-Tyzer Lite™.
With multiple ozone injectors, San-O3-Tyzer Lite can dynamically adjust the level of ozone added to meet the government requirements for sanitization, even under varying demand; whether one or all of the washers in the bulkhead are filling.
Mounts directly on the bulkhead between washers for simple installation in existing laundries.
Allows you to offer a group of sanitized washers in your laundry without having to supply all washers.
Clear, back-lit inlet and outlet pipes show the untreated water vs. sanitized water, letting customers can see the difference.