How do Hamilton hot water storage tanks work?
As much as 80% of stored water is at target temperature during peak draw.
No turbulent mixing of water. Cooler water stays at the bottom.
Replaceable anode rods used to maximize tank life.
Temperature and pressure relief valves for safe operation.
For condensing water heaters, add our Cold Water Injection System™ (CWIS) to maximize heater condensing efficiency by directing coldest water to the water heater.
100% usable tank volume, allowing the use of a smaller tank.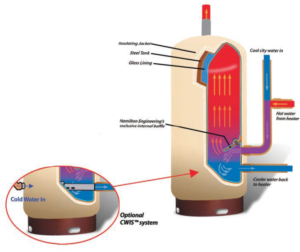 80-200 GALLON MODELS

All models are glass-lined and jacketed.
Two inches of foam insulation is injected between the tank and outer jacket.
Rated for 150 PSI working pressure; ASME certification is standard on all models above 120 gallons and optional on 120 gallons and below.
80 and 120 gallon models available as 316 T stainless steel tanks with two inches of foam insulation with jacket, rated for 125 PSI working pressure.

220-5000 GALLON MODELS

Glass lining is standard; stainless steel, epoxy and cement linings optional.
Standard working pressure of 125 PSI, 150 PSI optional.
ASME stamped and certified.
Designed to be installed vertically using the base ring supplied, or horizontally with optional mounting saddles.
Various insulation jackets available, including microfoil blanket, 2″ foam with metal jacket.
Lifting lugs supplied for ease of rigging and handling.