EVO HIGH-EFFICIENCY CONDENSING WATER HEATERS AND BOILERS.
Each EVO system is custom-designed and built to meet your exact specifications; all systems are shipped ready to set in place with minimal assembly.
UP TO 99.8% EFFICIENT DEPENDING ON INCOMING WATER TEMPERATURE
316L STAINLESS STEEL HEAT EXCHANGER CONSTRUCTION
SYSTEM CAPACITIES FROM 129,000-5,000,000 BTU/hr
Common Venting

Up to 8 units may be common-vented together, made possible by EVO's nonreturn valves and proprietary software.

Cascading Controls

Up to 8 units can communicate with each other to operate as one large system, maintaining precise temperature control.

Modulating Burner

Up to 5:1 turndown ratio adjusts to meet demand, further increasing efficiency while reducing cycling.

Pre-Assembled Systems

All RackPacks™ are factory tested and shipped ready to set in place with minimal assembly, reducing labor costs, downtime and installation issues.

Scale Monitoring

Internal software constantly monitors heat exchanger performance to warn if scale formation has begun.

Freeze Protection

Controller starts the pump (and the burner, if necessary) to protect against heat exchanger freeze-ups in cold climates.

Heating Control Configurations

The EVO product line has a multitude of standard control configurations, all of which are possible without adding expensive boards or external panels.

Outdoor reset
0-10 VDC
Open therm/E-Bus/BMS
Remote thermostat
Remote sensor
Boiler pump, system pump, indirect pump or three-way valve—domestic hot water as priority or not.
HOW CONDENSING TECHNOLOGY WORKS.
In the combustion process, a minimum of 11% of generated heat is latent heat (wet heat, think steam). In noncondensing combustion, only a portion of the sensible heat (dry heat) is transferred to the water; the rest of the dry heat and all of the wet heat is released into the atmosphere through venting systems as wasted energy.
In EVO condensing systems, the products of combustion (some of the wet heat and all of the dry heat) are forced to pass over the portion of the heat exchanger where the coolest water enters the system. The flue gases condense, releasing trapped heat that is Then absorbed into the water through the heat exchanger. Condensate (water) and low temperature gases are left behind. The flue gases are so cool, in fact, that they can be vented through PVC if desired.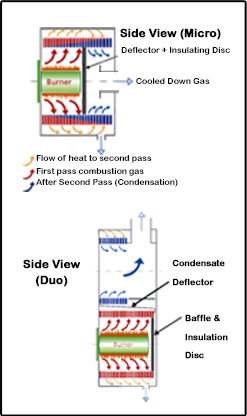 EVO CONDENSING WATER HEATERS
With its industry-leading 99.8% efficiency, EVO high-efficiency water heaters utilize our patented innovative condensing technology to perform better and install easier.
EVO HYDRONIC BOILER SYSTEMS
With their proprietary technology, EVO hydronic water boilers are a mainstay in energy and emissions-saving technology.
EVO POOL HEATERS
Compact, high efficiency condensing water heating systems. By operating in the condensing mode throughout the run cycle, EVO pool heaters assure the highest efficiencies with the most consistent temperatures.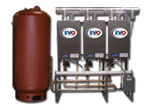 EVO Condensing Water Heaters

EVO Hydronic Boiler Systems

EVO Pool Heaters